From Runway to Aisle:
Transforming Fashion Stores with
Innovative Hanging Signs
Creating a seamless shopping experience is key to attracting and satisfying customers. A well-organized store layout, coupled with clear and informative signage, can significantly enhance customer navigation and optimize sales.
At our company, we specialize in providing comprehensive aisle sign solutions tailored specifically for the fashion and retail industry. Whether you're remodeling, building a new store, or seeking to improve your current signage, our aisle signs offer a competitive edge. In this article, we will explore how our customized signage can enhance the shopping experience, guide customers effortlessly, and highlight important sections within your store.
Gondola Aisle Signs
Retail Aisle Signs are designed to help customers easily locate key sections within your store. From men's, women's, and kids' clothing to shoes, fitting rooms, cashiers, restrooms, customer service areas, jewelry, elevators, and other significant sections, our aisle signs serve as beacons of guidance. By providing clear and concise information, customers can navigate your store with confidence, saving time and avoiding frustration. Our signage ensures that shoppers find what they need effortlessly, creating a positive and memorable shopping experience.
Fashion and retail stores often feature a wide range of products and collections. Our aisle signs can be customized to showcase specific product categories or highlight trending items, promoting product discovery. By strategically positioning signage throughout the store, customers are drawn to different sections, encouraging them to explore and engage with your merchandise. This heightened visibility increases the likelihood of impulse purchases and elevates the overall sales performance of your store.
In the fashion and retail industry, creating unique experiences is essential for attracting customers. Our aisle signs can be used to create store-within-a-store concepts, allowing you to showcase specific brands, collaborations, or themed collections. By strategically placing aisle signs, customers are guided into these designated areas, immersing themselves in a distinct shopping atmosphere. This innovative approach adds a touch of excitement and exclusivity to your store, captivating customers and driving brand loyalty.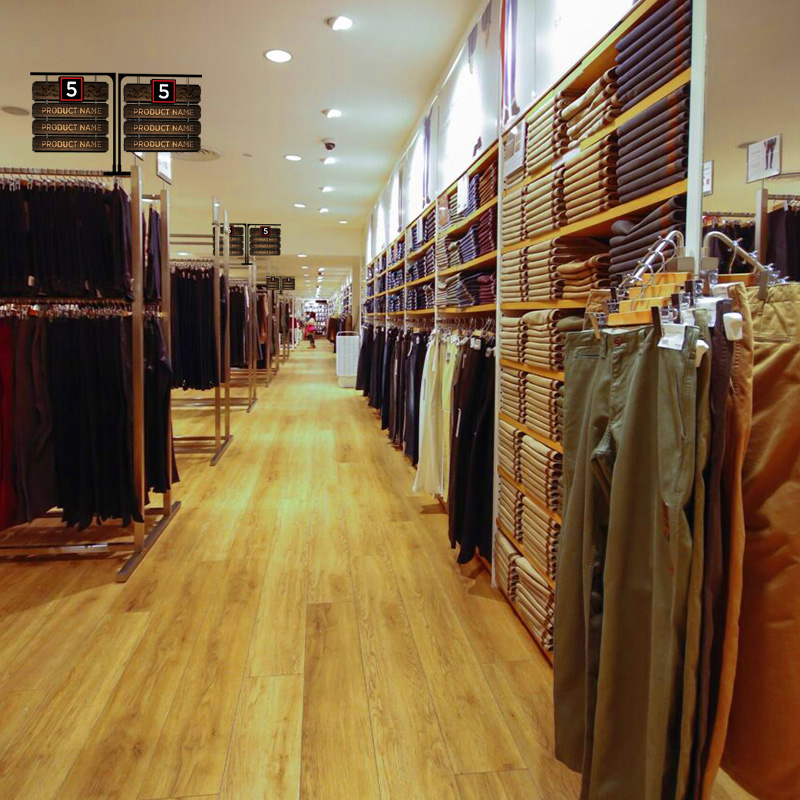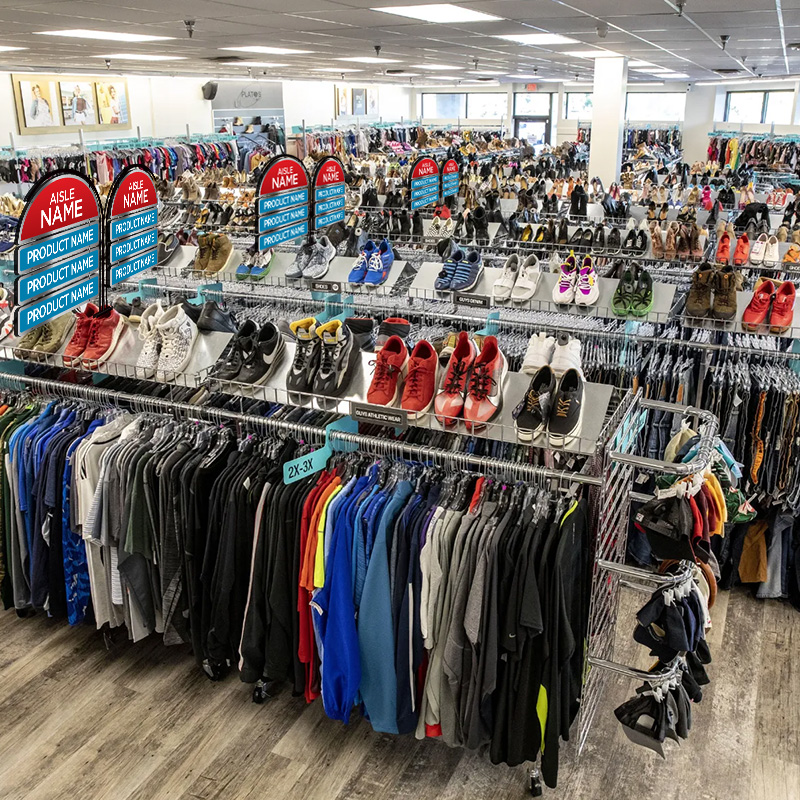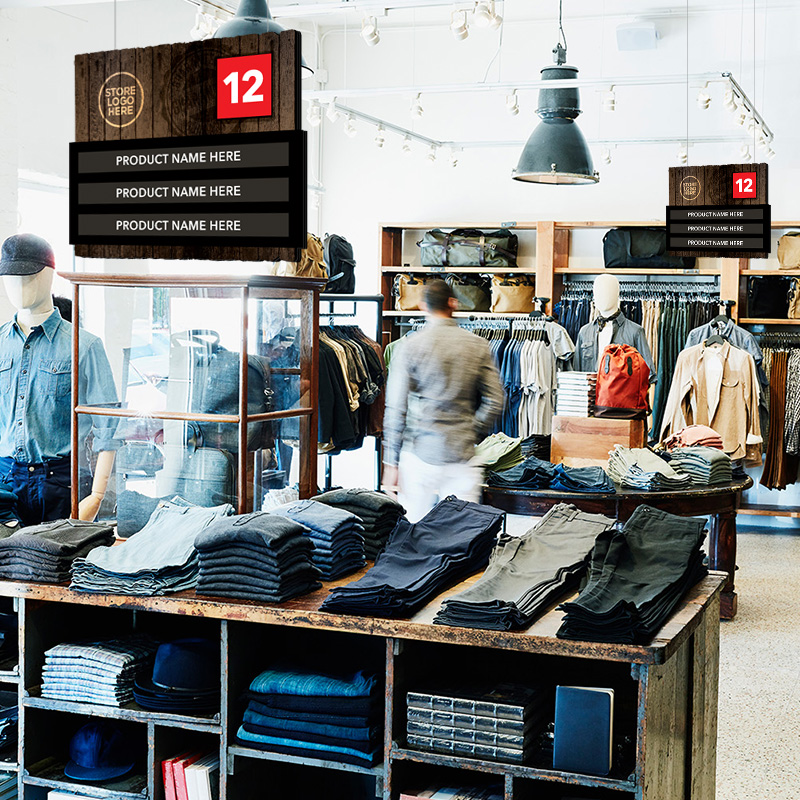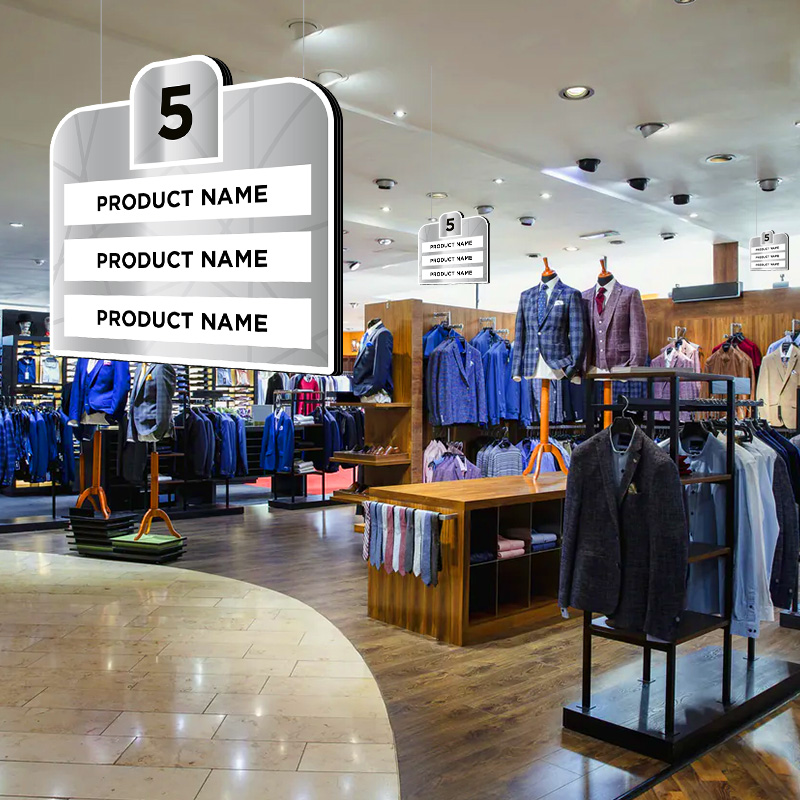 Customization for Brand Consistency
We understand the importance of maintaining brand consistency in the fashion and retail industry. Our creative team, led by award-winning creative director Matthew Gaylor, meticulously designs aisle signs that not only serve their functional purpose but also align seamlessly with your brand's visual identity. By incorporating your brand colors, typography, and logo, our customized signage becomes an extension of your brand story. This consistent branding reinforces brand recognition and fosters a sense of familiarity and trust among your customers.
Fashion and retail stores come in various sizes, and our aisle signs can be scaled to meet your specific requirements. Whether you have a boutique store with lower ceilings or a large-scale retail space with high ceilings, our signage solutions can be adapted accordingly. We provide low profile options that work well in tighter aisles and lower-ceilinged stores, ensuring optimal space utilization without compromising visibility. Additionally, our signage packages include all necessary mounting and installation hardware, making the process seamless and hassle-free for you.
In the dynamic world of fashion and retail, providing a delightful and efficient shopping experience is essential for success. Our aisle signs offer a cost-effective and customized solution to enhance store navigation, promote product discovery, and highlight important sections within your store. With over 30 years of experience in large-format print and signage, we have been serving the fashion and retail industry with dedication and expertise.
Embrace the power of effective aisle signage and watch as your fashion and retail store becomes a destination for style & convenience.