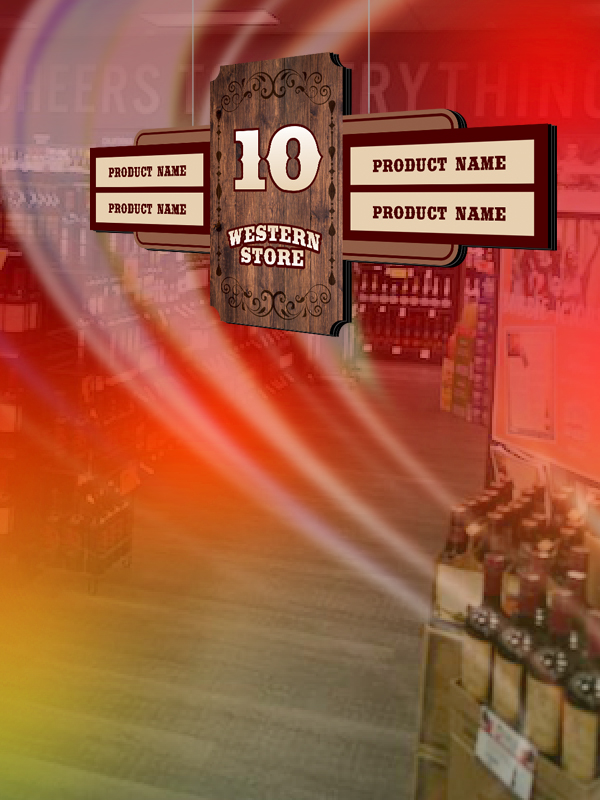 Aisle Signs Simplify Product Navigation
In the realm of liquor and spirits retail, creating an exceptional shopping experience goes beyond aesthetics and ambiance. More importantly, it's about enabling customers to effortlessly find products and discover new offerings. At our company, we understand the importance of efficient product localization within a store. Therefore, by leveraging our expertise in aisle labels, we can help liquor and spirits retailers transform and organize their space. As a result, our goal is to help enhance customer satisfaction and drive sales. Next, let's explore specific ways liquor store aisle signs can assist customers in finding their preferred liquors, spirits, wines, or mixers.
Liquor and spirits enthusiasts often have particular preferences. In other words, they look for specific types of drinks such as whiskey, bourbon, tequila, gin, vodka, or other offerings. Aisle labels play a pivotal role in guiding customers to these diverse product categories, ensuring an efficient and enjoyable shopping experience. By strategically placing aisle signs throughout your store, we create easy navigation, enabling customers to effortlessly locate their preferred liquors and spirits.
Wine lovers appreciate the vast array of options available, from rich reds to crisp whites and everything in between. Similarly, aisle signs specifically dedicated to wines help customers easily differentiate between varietals, regions, and wine types. By implementing clear and visually appealing aisle labels, we simplify the wine selection process. Moreover, we allow customers to quickly locate their desired bottles and explore new choices within their preferred categories.
Liquor Store Aisle Signs
Complementing liquors and spirits, mixers and enhancements are essential for creating enticing cocktails. Similarly, Liquor store aisle signs strategically positioned in the mixer section of your store feature a variety of options, including syrups, bitters, or tonics. By providing clear visuals, we empower customers to effortlessly locate the mixers that complement their chosen spirits.
In addition to assisting customers in finding their preferred liquor types, aisle signs can be utilized to highlight unique or specialty offerings. Whether it's rare whiskies, craft gins, tequilas, or limited-edition spirits, dedicated signage draws attention. By showcasing these distinctive products, you create an environment that sparks curiosity, driving customers to expand their taste buds.
Customization for Brand Consistency
We understand the importance of aligning aisle signage with your brand's narrative. As a result, our creative team, led by the award-winning creative director Matthew Gaylor, meticulously designs signs with intent. Not only do they help guide customers, but also contribute to your store's unique ambiance. Additionally, by incorporating brand elements, colors, and typography, aisle signs help product localization and strengthen brand recognition and customer engagement.
Captivating World of Liquor and Spirits with Aisle Labels
Helping customers easily locate their preferred products is crucial for enhancing their shopping experience and driving sales. Our aisle labels and signs serve as beacons of organization, facilitating the discovery of different types of liquors, spirits, wines, mixers, and more. By strategically placing signage throughout your store, we guide customers on a seamless journey of exploration, ensuring that every visit is a pleasurable and fruitful one. Partner with us to transform your liquor and spirits retail space where customers can effortlessly find their desired beverages, uncover new delights, and embark on memorable tasting experiences.